Can you believe we are already more than halfway through fall? It seems like it's flown by. To celebrate this season, we wanted to highlight three more of the incredible chefs that make up the Merrill family. In case you missed part one, click here. We are thrilled to be able to spotlight our chefs and the incredible work that they do. Up next, Kristie, Sandy, and Peter!
Kristie Aranda, Executive Chef at Truewood by Merrill, Modesto (CA) provided us with her recipe for pumpkin cheesecake (YUM!). This go-to fall recipe reminds her of when she worked for her first employer, Hilmar Cheese. She mentioned, "When I worked for them, I discovered my true passion for working in the culinary industry and baking this dessert really brings back the memories and reminds me of all the things I have accomplished to get to the position I am in today."
Kristie was born and raised in Modesto but has lived in several cities throughout California. She went to college to earn an associate degree in marketing and from there, she went on to work as a dietary aide and then eventually worked her way up to a chef (with little to no experience!). After getting two and a half years of experience as a chef, she applied to a position at Truewood by Merrill, Modesto in November of 2021. Kristie has showed an immense amount of resilience, determination, and hard work in her community. After less than a year at the company and at age 26, Kristie got offered the Executive Chef position. She said "…at only 26, this was a scary, but huge, steppingstone in my career and it was the leap I was willing to take no matter how scary it seemed. Being in this role almost 4 months now, I learn something different every day, but I keep on striving to be the best executive chef I can be." She goes on to say, "My motto is if you work hard enough, keep a positive attitude, and set your goals high in life, all that hard work will pay off in the end! I could not be any more grateful to have the career I have and to work for the Merrill family."
We are SO thankful to have people like Kristie working in our communities making them a better place. Now, on to her incredible recipe!
For the crust:
2 cups ground ginger snaps

1 cup ground graham crackers

1/2 cup minced pecans

1/2 cup melted butter

1/2 tsp salt
For the cheesecake layers:
3, 8 oz packages of cream cheese (room temp, 24 oz total)

1 1/4 cups sugar

3 large eggs (room temp)

2 tsp vanilla extract

1/4 cup heavy cream

1 1/4 cup pumpkin

1 1/2 tsp cinnamon

1 tsp nutmeg

whipping cream for garnish
Instructions:
Preheat oven to 350℉.
In a food processor, pulse cookies and graham crackers until you have fine crumbs. Remove. Add pecans to food processor and pulse until minced and almost crumb-like consistency. Measure and add all 3 to mixing bowl.
Add melted butter to crumbs and pecan bits. Stir to combine. Press into greased 9" or 10" springform pan. Bake crust until golden brown (about 12-14 minutes). Set aside to cool.
Lower oven temp to 300℉.
In a mixer, thoroughly mix cream cheese with sugar. The mixture should be completely smooth before adding any other ingredients. Make sure to routinely stop mixer and scrape down the sides to ensure there are no lumps in the batter. Add eggs one at a time, scraping down the sides of the mixing bowl between additions.
Add vanilla and heavy cream, mix thoroughly.
Remove half of the batter from the mixing bowl and set aside. To the remaining batter in the mixing bowl, add pumpkin, cinnamon, and nutmeg. Mix thoroughly.
Pour half of the pumpkin batter you just mixed onto the crust. Then, pour the plain cheesecake batter on top. In whatever pattern you like, add the remaining half of the pumpkin batter. You can use a knife to create a marbled look.
Place springform pan in 1/2" - 3/4" water bath and bake for one hour. The top of the cheesecake should no longer be shiny and the center will be slightly jiggled when nudged.
Enjoy!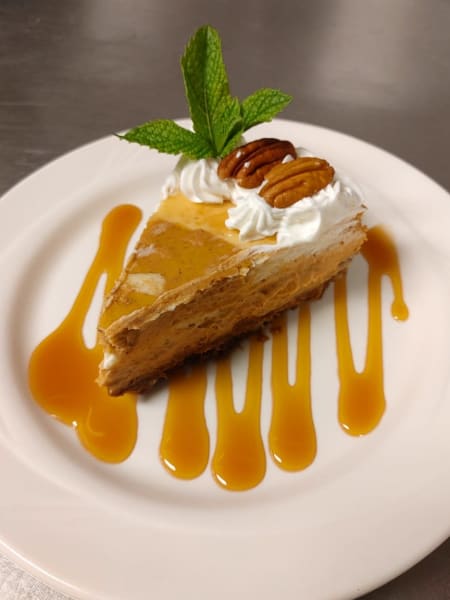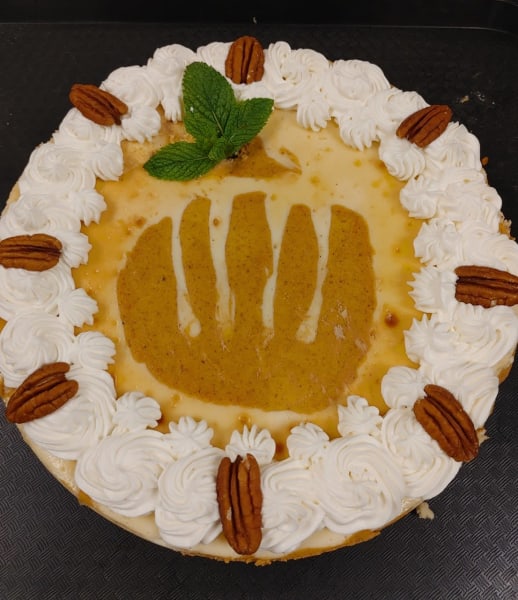 Our next amazing chef we'd like to highlight is Sandy Turner, Executive Chef at Truewood by Merrill, Georgetown (TX). Sandy has lived in Georgetown for the past 25 years! She's been married to her husband for 10 years and has two kids, ages 11 and 13. They enjoy spending time outside - especially playing tennis, practicing archery, and walking the trails of the beautiful parks in the area. Sandy's passions are cooking, vegetable gardening, spending time with her kids, and playing chess with her husband.
Sandy's favorite fall recipe is Spiced Brussels Sprouts with Bacon. She mentioned that she loves this recipe because you can pair it with practically any meal and her favorite veggie is Brussels sprouts!
Ingredients:
6 cups (usually about two packages) Brussels sprouts, trimmed and halved
1/2 yellow onion, rough chop
6 slices of bacon (whatever your favorite brand is)
1/4 cup honey
1/4 cup apple cider vinegar
1/2 tsp salt
1/2 tsp pepper
1/2 tsp crushed red pepper flakes (optional)
Instructions:
In a large skillet, cook the bacon until it's crispy. Remove from pan, place on a paper towel, and set aside for later.
Keep the bacon grease in the pan and add the onions, Brussels sprouts, salt and pepper. Cook until the onions have caramelized, and the sprouts have started to brown - roughly 15 minutes, while stirring occasionally.
Add the apple cider vinegar to deglaze the pan. Cook an additional five minutes and then add the honey. 
Chop the cooked bacon and add it and the red pepper flakes to your skillet. 
Serve with your favorite fall entree (or enjoy all by its glorious self).
Thank you, Sandy, for sending in this DELICIOUS recipe! If you're not drooling by now, have you been reading?!
Our third chef is Peter DeFilippi, Executive Chef at The Pinnacle at Plymouth Meeting (PA). Peter has been a chef for over 22 years, the last five of which have been in senior living. He attended Syracuse University and received a Bachelor of Arts in Music. Having had a few credits to finish in his "super senior year", Peter joined the team at a local Syracuse restaurant and discovered his passion for cooking. He then enrolled at the "Italian Culinary Institute for Foreigners" in the Piedmont region of Italy. In addition to school, Peter worked as a "stage", (a.k.a, internship), in a restaurant outside of Bologna, Italy specializing in fresh pasta. He then returned to his native New York City area and worked in various kitchens for the next ten years. After the birth of his daughter Olivia, he and his wife Kimberly moved to Bluebell, PA, shortly thereafter settling in Ambler, PA where they live right now. In addition to cooking, Peter enjoys playing music (drums and guitar) in a rock and roll band and studying foreign languages (Italian and Spanish). He also has a passion for traveling, Civil War history, craft beer, wine & spirits and above all being a father and husband.
Peter's favorite fall recipe combines a savory pork chop with a sweet apple cider reduction. Peter mentioned, "I add French grain mustard to the sauce to give it a little acidity and brighten up the flavor. Brining the pork chop overnight first ensures a tender pork chop that is seasoned and flavorful throughout. For me, this dish combines all of my favorite fall flavors. Sage is the herb that makes me think of fall, obviously apple cider marks the changing of the seasons and is such a versatile ingredient in and of itself. My favorite fall vegetable is without a doubt Swiss chard. It is easy to grow and often gets a second yield in the garden when handled properly. It's colorful, flavorful and packed with nutrients like folic acid and fiber." This recipe feeds four people.
For the brine:
4 bone-in pork chops
1/4 cup salt
1/4 cup maple syrup
1/2 gallon water
For the sauce:
1 qt fresh apple cider
1 cup chicken stock
2 tbsp whole grain mustard
1 bay leaf
1 tbsp butter
For the sweet potatoes:
6 medium-large sweet potatoes or yams
1/4 lb (1 stick) unsalted butter
1 cup sour cream
8-10 sage leaves
Salt, pepper, nutmeg, and cinnamon to taste
For the Swiss chard:
1 bunch rainbow Swiss chard
6 strips of bacon
Salt and pepper to taste
Instructions for the brine:
Prepare the brine.
Combine salt (preferably Diamond crystal Kosher salt which is lower in sodium by volume), maple syrup and water. Soak your pork chop in the brine for a minimum of 12 hours. 24 hours is preferred. This is a relatively low sodium brine recipe, but some salt is necessary for osmosis to occur.
Remove the pork chop from the brine and pat dry with a towel. To properly sear, the pork chop must be fully dried.
For the sweet potatoes:
Preheat your oven to 350℉.
Prepare a ½ sheet pan with foil, (the sugars in the sweet potatoes will caramelize and can burn the bottom of the pan and will be difficult to clean.)
Roast the sweet potatoes whole in their jackets for 1 ½ hours until cooked through and perfectly soft.
Allow to cool and peel the skin off, then mash the sweet potatoes with a whisk, season to taste with salt, pepper, nutmeg and cinnamon.
In a frying pan, add the stick of butter and brown slightly, adding the fresh sage leaves chopped finely (or left whole and removed depending on your preference) bloom the herb into the butter - allowing the aromas to be released.
Add your brown butter and sage, and ½ cup of the sour cream to potatoes.
Add the rest of the sour cream until the desired consistency is achieved.
Mash and reheat in the oven for service.
For the sauce:
Combine the fresh apple cider, chicken stock, mustard, and bay leaf in a saucepan and reduce to a glaze or until it is thick enough to coat the back of a spoon. 
Finish the sauce with the butter at the last moment before plating.
Cooking the pork chop,
Heat a cast iron skillet at medium high heat.
Add just a little oil and place the chops in and do not move them or turn them for 2 minutes a side.
Sear both sides of the pork chop, be careful not to burn as the sugars from the maple syrup will start to release from the meat.
Finish cooking them in the oven if necessary (it depends on the thickness of the chop), and cook until you have an internal temperature of 155 degrees. Deglaze the pan with the cider reduction prepared above and finish with a small pat of butter.
For the Swiss Chard:
Cut the bottom part of the stems off the bunch (some stem is okay).
Render bacon pieces in a frying pan. Add your Swiss chard and cook until wilted, but maintain the bright green color.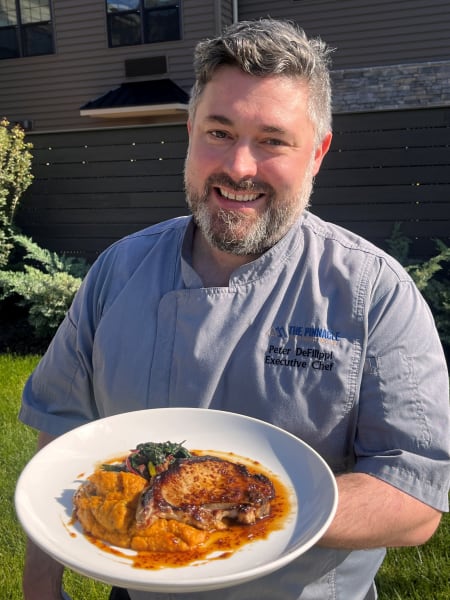 Last step, enjoy this absolutely outstanding meal.
Wow - thank you SO much to all of our amazing chefs that helped us with sharing these recipes. We are so lucky to have the chefs that we do preparing these tasty meals for our residents!