Merrill has some of the best chefs in the business (if we do say so ourselves), so why not share the magic they create in the kitchen? Last fall, we shined a spotlight on a few of our amazing chefs — that blog was so popular, we just had to do it again! It is our pleasure to introduce two incredibly talented women who are a part of our team.
Meet Shuronda: Executive Chef at Merrill Gardens at Rancho Cucamonga (CA).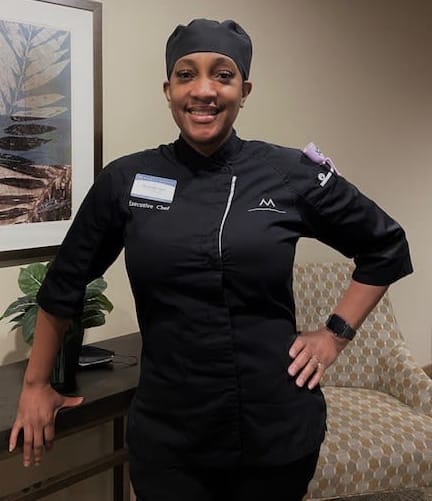 Shuronda has been a chef in the senior living industry for over 21 years. She graduated culinary school in Wisconsin in 2002. She comes from a large family of cooks so no one was surprised when she decided to go to culinary school. While attending school, she worked as a caregiver and med tech in a senior living community while also cooking all of the desserts for them. This is where she found her passion for working with seniors, saying she finds it "fun and rewarding". She always says "The holidays are my favorite time of the year to create amazing dishes for our residents to enjoy. One of my favorite dishes is my grandmother's southern cornbread dressing. There are so many renditions to this dish, but the way she made it was like a big ol' hug at the Thanksgiving table." Shuronda was kind enough to share the recipe with us. Enjoy!
Southern Cornbread Dressing
Prepare your favorite cornbread recipe, I love to prepare a honey cornbread (9" Square).
Ingredients:
5 slices of stale white bread cut into cubes
10 tablespoons butter, divided use
1 large onion, finely chopped
1 cup of celery, finely chopped
4 cups of chicken or turkey broth
5 eggs
1 tablespoon of fresh sage leaves, finely chopped
2 tablespoons of fresh chopped parsley
Salt and pepper to taste
Instructions:
• Cool the cornbread and crumble. Place the cornbread in a large bowl with the bread cubes and toss to combine.
• Preheat the oven to 350 degrees. Coat a 9"x13" pan with cooking spray.
• Melt 4 tablespoons of butter in a large pan over medium heat. Add the onion and celery and cook for 6-8 minutes or until softened. Season the vegetables with salt and pepper to taste. Place the vegetables in the bowl with the cornbread mixture.
• Melt the remaining 6 tablespoons of butter and pour into a large bowl. Add the chicken broth, eggs, salt and pepper to taste, and sage, and whisk to combine.
• Pour the butter mixture into the bowl with the cornbread mixture and stir to combine.
• Transfer the stuffing mixture into the prepared pan. Bake for 45 minutes, or until the dressing is browned and cooked through.
Pro-tip: My grandmother would often add chopped ham or chopped turkey to the mixture! Yum!
__________________________________________________________________________
Our next chef we'd love to highlight is Frankie, Executive Chef at Truewood by Merrill, New Bern (NC).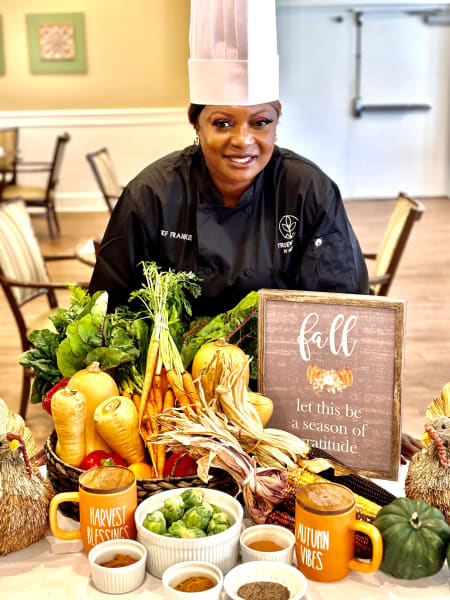 "The fall air always re-energizes me because it reminds me of all the upcoming family holidays", Frankie shared with us. Her love of cooking stems from the kitchen always being the center point in all family gatherings. Frankie studied culinary arts at Trident College in Charleston, SC. She has been a chef in senior living for 15 years – she has been working with Lara, the community's General Manager, for the last 10 years. Frankie has two beautiful adult daughters and this year she welcomed her first grandchild! In her spare time, she enjoys traveling and trying new cuisine. 
Frankie was kind enough to provide us with multiple fall recipes fit for an entire FEAST! See below.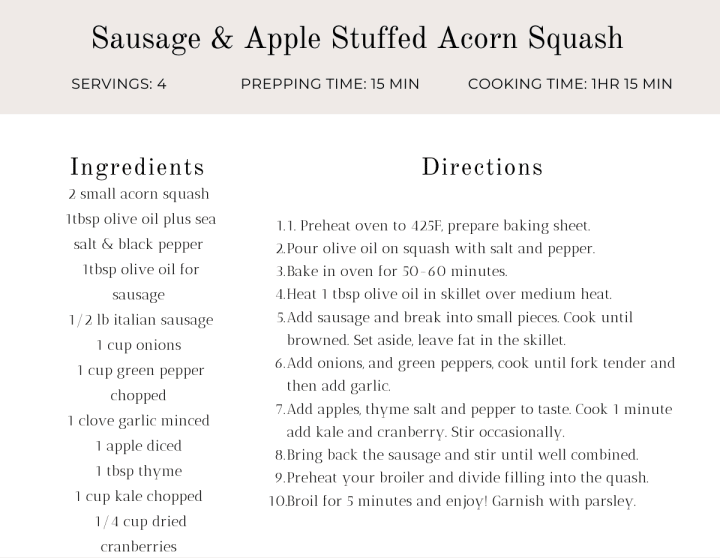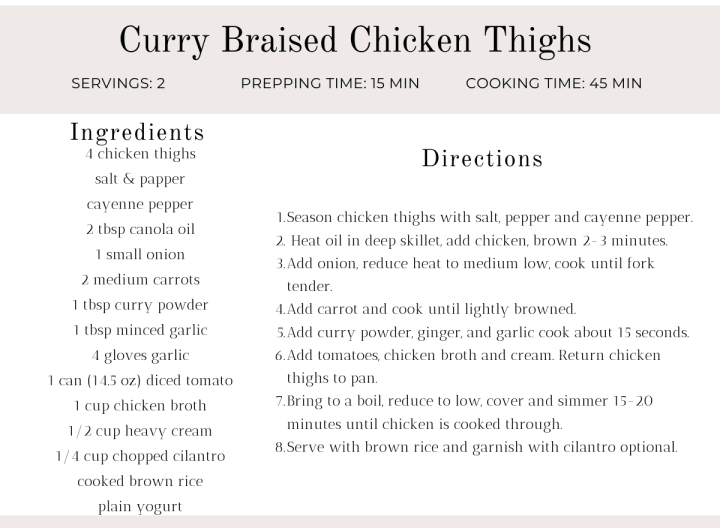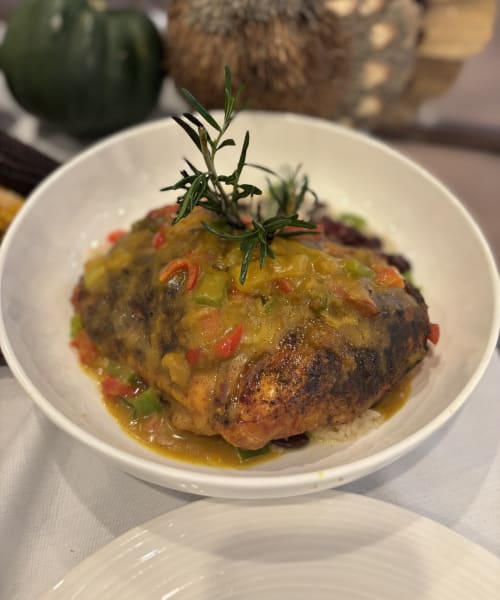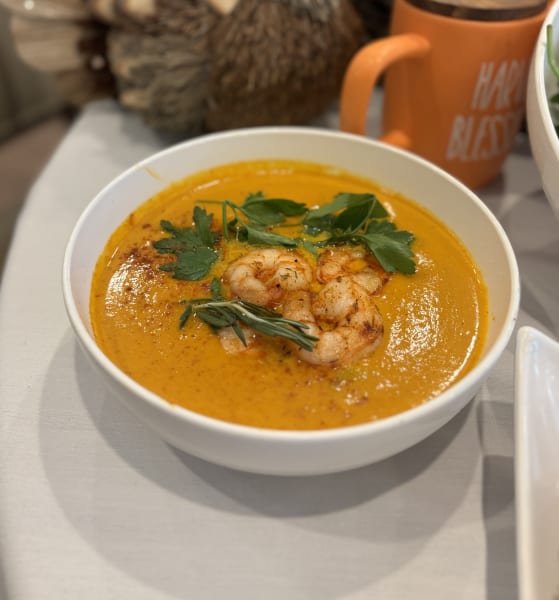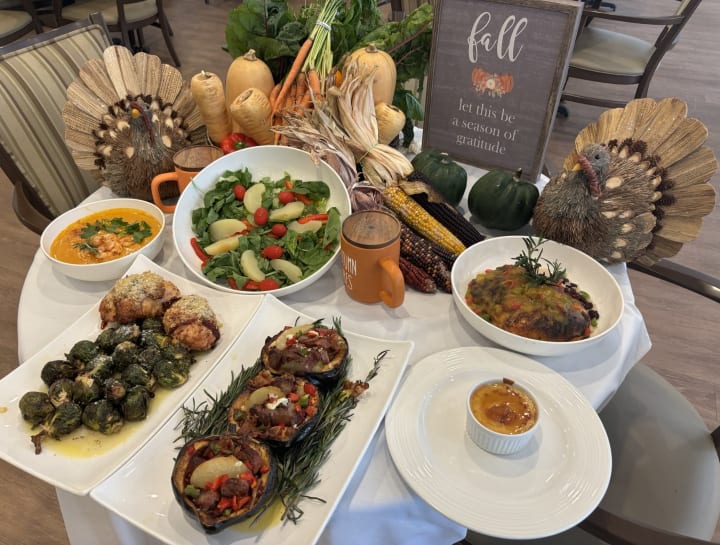 We are so honored to have both of these absolutely incredible chefs as part of the Merrill team. Let us know if you try one!