There is nothing better than seeing our talented team members recognized for their exceptional work.  That's why we are so pleased to announce that Karen Casey, our Resident Care Director at our community in Renton, WA has received the Senior Care Service Provider Award.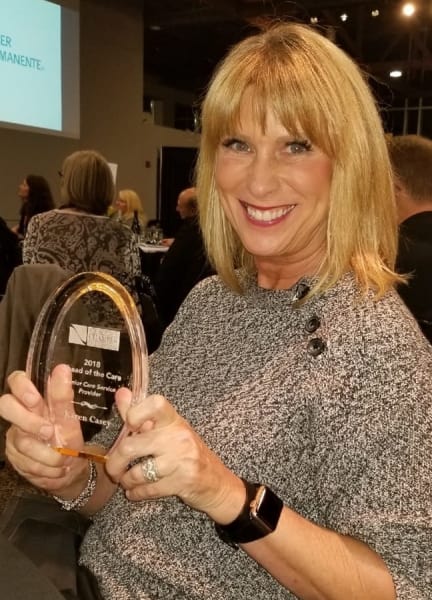 Karen was chosen for her stewardship of the best in assisted living year after year and her representation of Merrill Gardens to so many families and outside providers who work with the community.  She was presented with the award by the Renton Chamber of Commerce in recognition of her contributions not just to our community but to the larger Renton area community as well.
Karen has been the Resident Care Director at Renton Centre for over five years and she is responsible for every aspect of health monitoring and maintenance for residents who receive care. Her expertise spans every facet of the operation and touches family members, prospective residents, external health care providers, and her fellow team members. She approaches her calling as a nurse with compassion, generosity, and a great sense of humor.
Karen leads an amazing group of talented and dedicated care professionals and thanks to her leadership, her team is recognized as 'the best of the best' in the annual resident and team member surveys.  Karen truly epitomizes our focus on Yes You Can with the belief that every life is defined by possibilities, not limitations.  She is such an inspiration to all of us and we are so proud of her!