It's the height of summer, which means it's the perfect time for summer get-togethers with family and friends! With Labor Day quickly approaching, how about trying a special dip at your next BBQ? 
We highly recommend this artichoke hummus dip recipe from Chef Jefferson Anderson, the Executive Chef at Merrill Gardens at Kirkland (WA).
Chef Jefferson whips up amazing food at our community, not to mention he is a master behind the grill! Here he is at the community's annual summer picnic at the downtown Kirkland waterfront.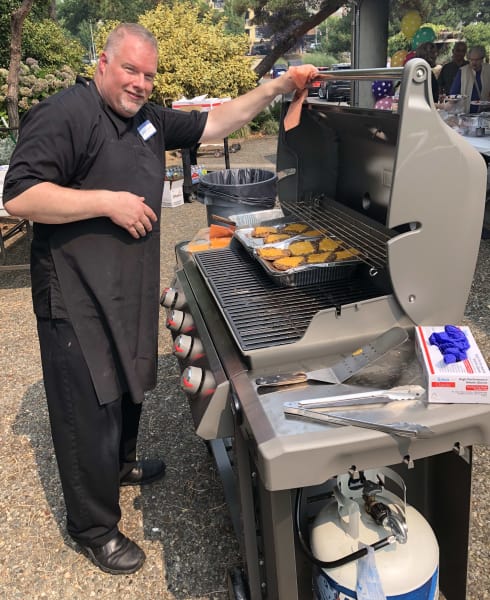 Follow this easy 15-minute recipe and serve with chopped vegetables, pita chips or toasted baguette slices for an ideal BBQ appetizer.
Ingredients:
1 can garbanzo beans
2 to 4 tablespoons water
2 tablespoons extra virgin olive oil
1 tablespoon lemon juice
1 garlic clove minced
¾ teaspoon cumin
¼ to ½ teaspoon salt
1 pound artichoke hearts or bottoms, chopped
3 tablespoons basil, chopped fine
2 tablespoons thyme, chopped
¼ cup extra virgin olive oil for drizzling
Directions:
Preheat oven to broiler setting.
Cut baguette into 1/4-inch slices.
Arrange bread slices on a baking sheet in a single layer.
Broil 4 minutes or until lightly toasted.
Add the garbanzo beans, 2 tablespoons of water, the olive oil, lemon juice, garlic, cumin, and 1/4 teaspoon of salt to a food processor.
Process until smooth and creamy. If needed, add additional water to thin out the hummus and 1/4 teaspoon of salt to your taste preference.
Add chopped artichoke hearts or bottoms, basil and thyme.
Stir to combine.
Spread on toasted baguette slices and drizzle with olive oil.
Store any leftover dip in the refrigerator.
Print this recipe or share it with your friends.
We hope you enjoy this quick and fresh recipe, stay tuned for our next recipe!