Let's Stay Connected
We love to learn new things! As we collect great resources, we want to share them with you as well. Take a look below for some activities to help keep you busy. From meditation to exercise to virtual trips around the world, there is sure to be something for everyone to enjoy.
If you're loving the newsletter page, check out this list of additional resources!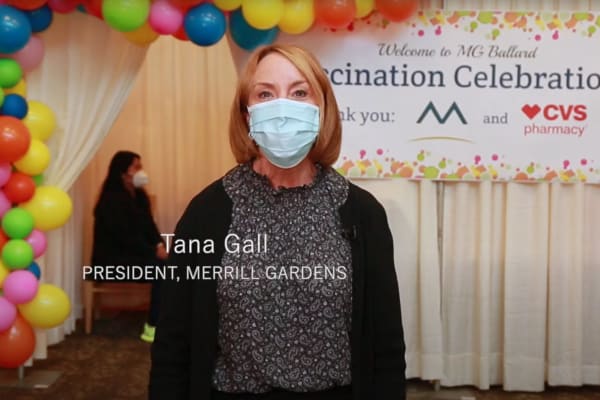 Vaccine Clinics Are Here!
President Tana Gall discusses COVID-19 vaccine clinics and what they mean for community operations. Click below to get an update!
What Merrill Gardens is All About
Click the button below to watch our newest video telling you what Merrill Gardens is all about! Our President Tana Gall wants to take the time to share our message with you.
Team Member Gratitude
We will never be able to show enough gratitude to all of our incredible team members. They display so much compassion and empathy every day and we simply could not do it without them. Click the button below to learn more.
Wellness
This year has been challenging and we want to help you stay up to date on how we are nurturing wellness and check-in with how you're doing. Please click below to check out our first Wellness Newsletter!
Journal
We all have an extra notebook laying around the house - this is a perfect time to grab a hot cup of coffee, and snuggle down with pen and paper. Click the button below to learn about the many benefits of keeping a journal.
Guided Yoga
Take 30 minutes out of your day to relax and enjoy some gentle yoga. It's a great stay at home activity and can be done on your time whenever you need it. Click the button below to watch a guided yoga video.