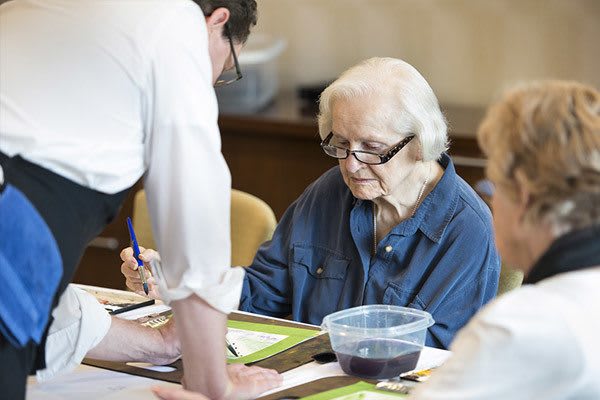 Active Living Makes For a Dynamic Life.
Life at Merrill Gardens is anything but passive. Active, engaged lifestyles are the key to happy lives - especially for seniors. We put our focus and enthusiasm into giving residents as many choices as possible for keeping as busy as they want to be.
Every one of our communities boasts a dedicated Active Living Director who oversees a full activities calendar. Activities are driven by the interests and requests of our residents, and we're always glad we asked! Chair yoga, giant crosswords, day trips, ice cream socials, skits, strength training, movies, bingo, swimming, wine and cheese tastings, catholic communion, TED talks, scenic drives, pet therapy, bread baking, national food day celebrations, jazz concerts, Bible studies, and picnics are just a few of the things going on in any given week. The only complaint seems to be that residents just don't have time to fit it all in!

Our activities represent a full range of physical, social, mental, and spiritual opportunities. Whether packed or with just two participants, we count anything a success that keeps our residents active.
We think you'll find that life gets bigger here, not smaller.

Words from the Wise
When you look back on your life, what will have mattered the most? 
The people who come to live at our communities bring a wealth of wisdom and life experience.  They know what matters most in life and we are honored to share their knowledge in our Words from the Wise video series. 
Click on the video to hear their advice.  We think you'll agree they're right on the money.