Enjoy More at Merrill Gardens at Green Valley Ranch
Our community is designed to give you the freedom to be yourself. We offer quality independent senior living and assisted living from a family-owned company that knows connection is everything.
Visit and enjoy a meal on us!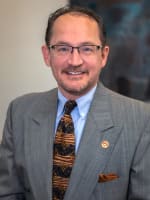 A message from the
General Manager

I have over 26 years of experience in the healthcare profession. I am originally from West Virginia and grew up in the industry, as my family owned and operated two skilled nursing facilities; much of my upbringing were days spent at the facilities mowing grass and painting resident rooms. I have a strong dedication to the people I serve each day and I credit that to values instilled by my family.
I graduated from Marshall University in Huntington, West Virginia with a degree in Healthcare Management and am currently working towards my Healthcare MBA. During my free time I'm either up in the air flying or skiing down the slopes. I volunteer my time with the Civil Air Patrol and the National Ski Patrol. My fiancé, Brandic and I have a 17-month-old son and we also enjoy traveling together.
I can't wait to welcome you to Merrill Gardens at Green Valley Ranch!
– David Conaway, General Manager
Our Simple Assessment
We know the decision to move yourself or a loved one to a senior living community can feel overwhelming. Our simple four-minute assessment can help you make more informed choices and match your needs with the right level of support.
Experience Counts
Our community features a seasoned team ready to meet each resident's individual needs. With over 25 years of combined experience at the community, our leadership team knows how to provide a lifestyle that is filled with freedom, flexibility, friendships and fun!
We offer private apartments with full kitchens and washer/dryers and there are numerous cozy common areas for you to enjoy. We have a beautiful outdoor pool, perfect for enjoying the Nevada sunshine. We also have a wealth of modern conveniences from complimentary internet access to electronic security key system and a theater room. Stay fit in our wellness center, primp at our salon and barbershop or peruse our well-stocked library. We even have an onsite ice cream parlor!
We're Proud of Our Community
Come on out and see us in sunny Henderson! You'll find that residents live as independently and actively as possible here in our own little corner of paradise.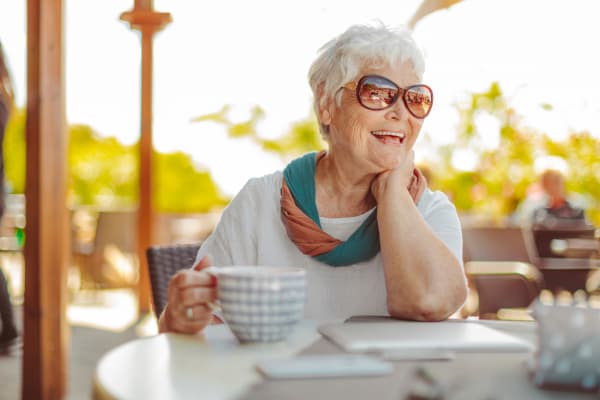 Healthy, Active & Loving It
Managing a packed calendar of enriching activities is a full-time job and our Active Living Program Director is up to the task. We're driven by the desires of the people who live here and our days are jam packed with more choices than you'll have time for in your day.

I was born in Kansas and lived there for 83 years. My husband passed away when I was just 74, so I elected to stay in Wichita in our condo. I had one daughter who lived in Henderson and the other daughter lived in NJ. The girls worried about my living alone, so I began looking in Henderson to be near my daughter. I was most impressed with what I found at Merrill Gardens. I didn't come easy – in fact I looked here 3 times before I made my mind up to leave my home. But, I finally made the right decision. I feel safe and secure here, and am very happy.
I keep very busy with all the fun activities we have daily. I stay active and volunteer my time to help with newcomers moving in. I still drive to my doctors and shopping needs but if I didn't, they would provide the transportation needed for such. I've made good friends, and I think we have an excellent staff. I cannot recommend Merrill Gardens at Green Valley Ranch enough. And of course, I LOVE being 10 minutes from my daughter.
– Lois Hubbard, Resident at Merrill Gardens at Green Valley Ranch since 2016
There's No Place Like Home.
Choose from our 88 one and two bedroom senior living apartments. We provide independent living and assisted living aimed at giving you as much choice and freedom as possible. Personal care services are tailored to your particular needs. Anything that allows you to pursue as many of the physical, social, intellectual, emotional, and spiritual interests available to you at our community.
Our Anytime Dining program means eating on your schedule with dynamic, restaurant style meals served from 7am to 7pm, seven days a week.
Independence is here for you - allowing you to enjoy all the things you've been wanting to do.
 Library

 Living Areas
 Meeting Spaces
 Salon

 Central Air

 Courtyard
 Wine Bar
 Swimming Pool

 Piano
 Patio/Balcony
 Washer/Dryer
 Kitchen/Kitchenette
 Parking
 Fitness Area

 Movie Theater
 24-Hour Staffing
 Resident Call System

 Transportation Options

 Anytime Dining

 On-Site Maintenance

 Weekly Housekeeping

 Wellness Program
 Pets Welcome
Nearby Communities
Explore other Merrill communities.